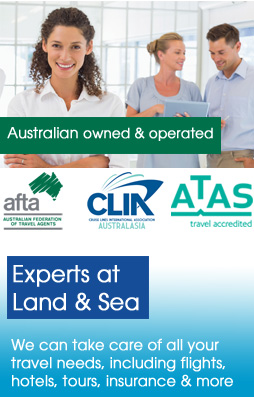 Choosing the right Cruise Line for you
With so many cruise lines to choose from your choice is an important one in ensuring you select the right option for your tastes and budget. We can help you decide not only on the best cruise line but also the best ship from the hundreds available in Australia and throughout the world.
There are cruise lines offering small boutique style ships carrying less than 50 passengers, or river cruises on some of the great rivers of Europe and Asia, right up to the world's biggest ships carrying up to 6000 people on ships often described as floating resorts or theme parks.
Which one is right for you? A great place to start your research is right here through our cruise lines information pages. You'll find a description of each line, plus links to each of their ships with a list of facilities and highlights of each ship. And of course you can call on one of our cruise experts for more help anytime you need it.
We offer cruises on Australia's favourite cruise lines, such as P&O, Princess, Cunard, Carnival, Holland America and Royal Caribbean. If you prefer to travel further afield we can also help with flights and accommodation.
More Cruise Lines